News
ASTech Participated in 1st Asian edition Hannover Messe Technology Show – Industrial Transformation Asia Pacific (ITAP) in Singapore
ASTech co-exhibited with Makino, Mazak and Technology Partners to demonstrate the latest Technology at Singapore Expo from 16th – 18th Oct '18. ASTech launched 5 Robotic Cell, namely Milling Robotic Cell (MRC), Turning Robotic Cell (TRC), Deburring Robotic Cell (DRC), Turning & Milling Robotic Cell (TMRC) and Robot-on-Track Cell (RoTC). Three of the robotic cells had showcased in the ITAP show.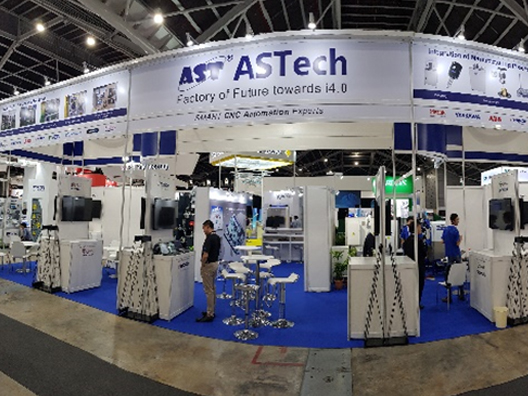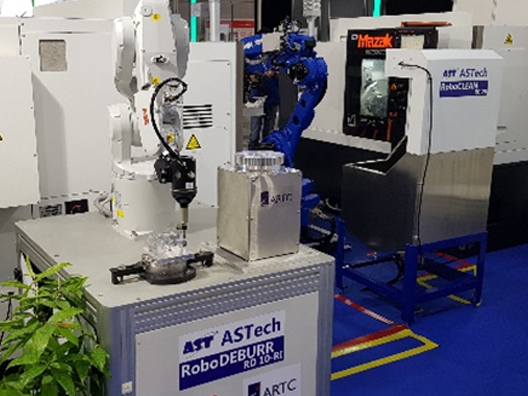 ASTech Formed SMART i4.0 Transformation Alliance (SiTA) with 14 International and Local Companies
In conjunction with the Inaugural Industrial Transformation ASIA-PACIFIC in Singapore, a HANNOVER MESSE event, ASTech announces new strategic alliance, SMART i4.0 Transformation Alliance (SiTA) with 14 companies – Makino Asia, Yamazaki Mazak Singapore, P.T Yaskawa Electric Indonesia, ABB, MPDV Asia, Schunk Intec, Blum Production Metrology, SkyLab Networks, Asterisk Computer (FE), Opex Consulting Group, Relancer, SIIX-AGT MedTech, Julian Grey Group and CatThis supported by Enterprise Singapore and SPETA.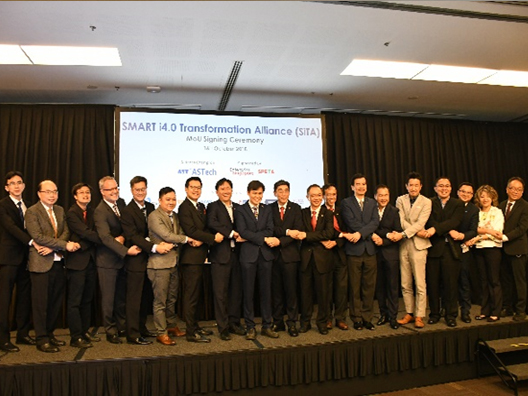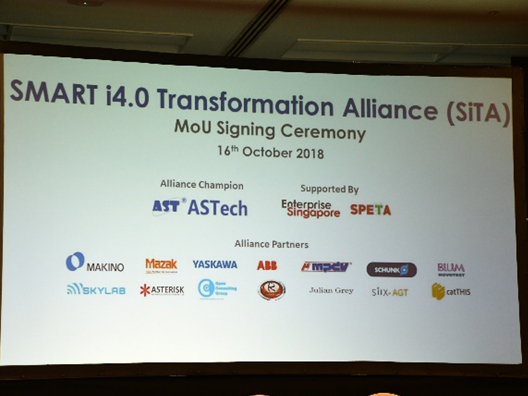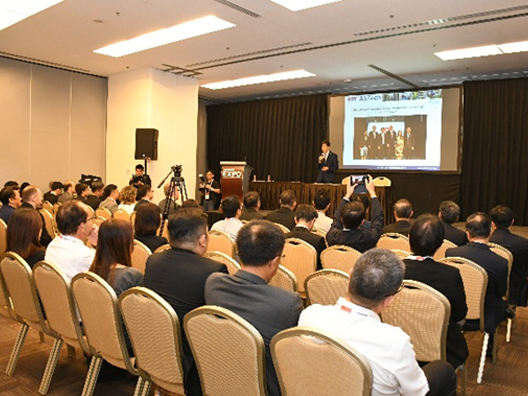 ASTech Invited as Official Partner in A Premium Technology Event at Mazak Open House
ASTech invited as Official Partner in A Premium Technology Event at Mazak Open House on 10 th – 11 th Jul '18.
The event includes a Mazak iSMART Factory tour and ASTech's new developed system: Turning & Milling Robotic Cell known as TMRC catch the most visitors' eye. TMRC consists of a Robot, tends for one CNC Lathe Machine & one CNC Milling Machine, integrated with Deburring, Cleaning, Quick-change, Zero Clamp System and Measurement with OEE analysis.
The new added feature in the cell was Tool Holder change by Robot after tool worn-off with new pre-set tool. The cell was fenceless with yellow and red safety zone guarded by safety scanner.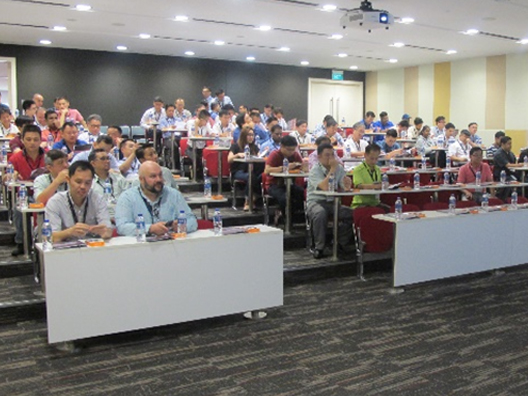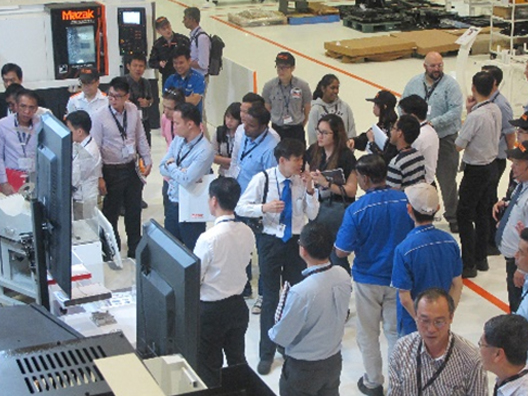 ASTech Partnered with the Biggest Industrial Tools Supplier in Thailand to provide Smart CNC Automation Solutions
ASTech signed a Partnership Agreement with Sumipol on 22 nd Jun '18 and we were honoured to become the Partner of Sumipol Corporation Limited, the Biggest Industrial Tools supplier in Thailand.
Sumipol represents the top quality Industrial Tools and Equipment from Japan, namely Sumitomo, OSG, A.L.M.T, Mitutoyo, etc. ASTech is excited to be 1st Singapore Brand to be represented by Sumipol besides Japan in the 30th years Anniversary. This mark a big breakthrough for both Sumipol and ASTech who will celebrate the 15th years Anniversary this year. The partnership opens another new chapter for ASTech's expansion plan in Thailand.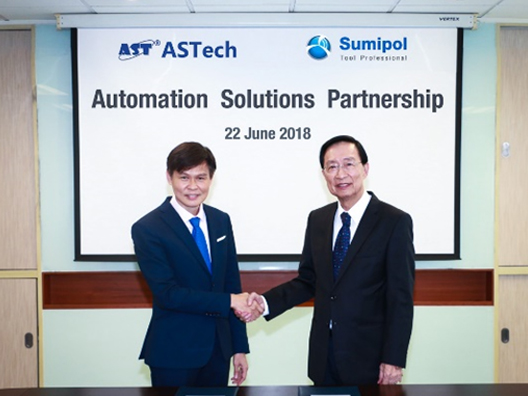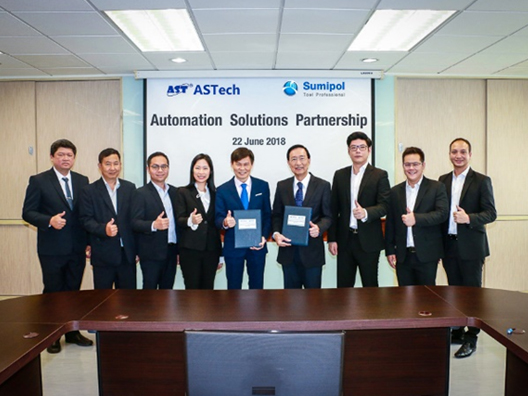 ASTech Exhibited at 1st Singapore Pavilion in Hannover Messe, the World Largest Trade Show in Germany
Minister for Trade and Industry, Mr. S Iswaran and Enterprise Singapore (ESG) newly appointed Chairman Mr. Peter Ong accompanied by Deputy Chief Executive Officer Mr. Ted Tan and SPETA Executive Director Mr. Steven Koh visited our booth at Singapore Pavilion on the 1st day of the World's Largest Technology Trade Show, Hannover Messe in Germany to understand our company capabilities towards Industry 4.0.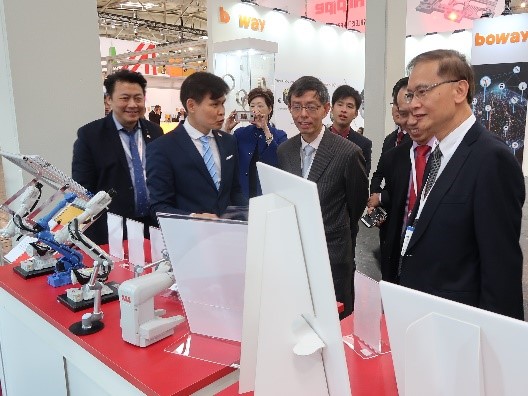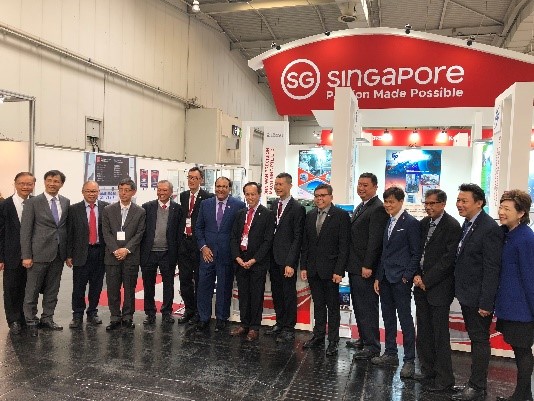 ASTech Invited as Speaker for Makino Aerospace Solutions Seminar
ASTech was invited as Speaker to share about Smart Manufacturing towards Industry 4.0 Paradigm at Makino Aerospace Solutions Seminar. Many automation solutions and applications had presented to the visitors to demonstrate how to achieve advanced manufacturing and transformation from Industry 3.0 to Industry 4.0. Smart Industry Readiness Index (SIRI) Framework with 16 Dimension of Assessment developed by Singapore Government had been highlighted.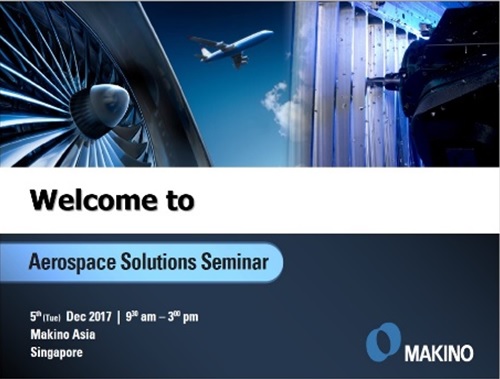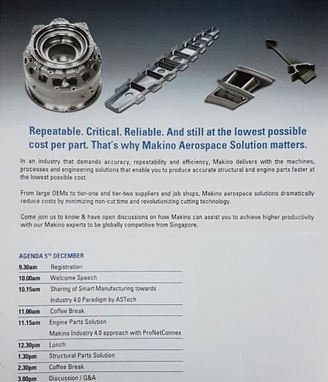 Launched of Singapore Smart Manufacturing Automation Technology Alliance (SMATA) in Jakarta
ASTech and a few esteemed companies jointly formed a Consortium group and launched the Singapore Smart Manufacturing Automation Technologies Alliances (SMATA) in Jakarta. The Consortium comprises mainly of manufacturing solutions specialists and technology providers that help to look into the complete digitization journey of manufacturing companies. The Launch was officiated by Dedicated Assistant to the Coordinating Minister for Economic Affairs, Indonesia, Mr Edy Putra Irawady.
ASTech Robotic Solutions at JEP Precision Smart Factory Official Opening
ASTech demonstrated Robotic Solutions at JEP Precision Engineering Pte Ltd, a subsidiary of JEP Holdings at its Smart Factory Official Opening Ceremony. We deployed Robot on the Track with our standard RoboStore, a storage rack for raw & finished parts to serve 3 milling machines to increase productivity and the system can run unmanned for 3 hours. We also integrated two 5-Axis CNC Vertical Machining Center with Robot and RoboStore to handle work piece as heavy as 30kg.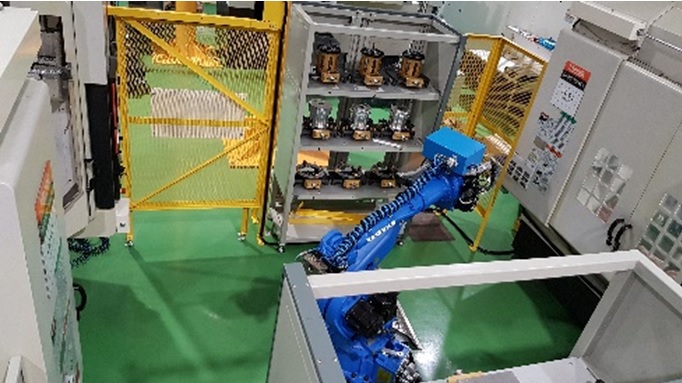 ASTech and SMF jointly organized a Plant Visit @ Key Customer's Factory
ASTech and Smart Automation Industry Group (SAIG) from Singapore Manufacturing Federation (SMF) had jointly organized a plant visit to our key customer, the world's leading Oil & Gas company in Singapore. The Quest-of-Honour was Senior Minister of State for Trade and Industry, Dr. Koh Poh Koon. Government Agencies such as EDB, Spring and more than 40 visitors from SMEs and MNCs had joined the plant visit.
There are total of 44 Robotics solutions in the plant. The plant tour showed case how ASTech partnered with our customer to deploy Robotic Solutions for machine tending and other secondary processes such as Deburring, Grinding, Polishing, Flow Test, Balancing, Washing, Inspection and Measurement.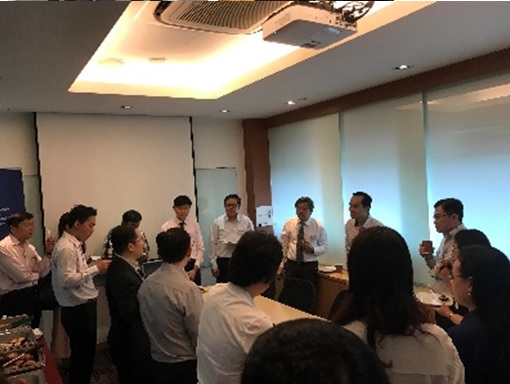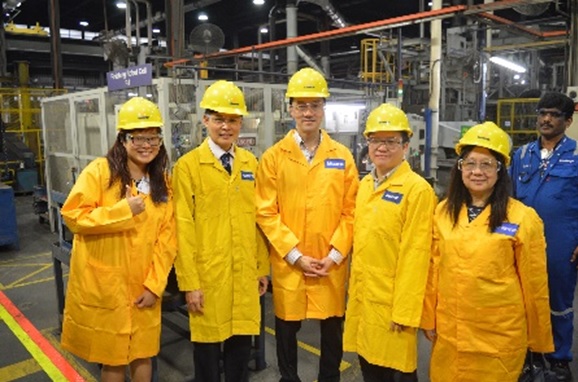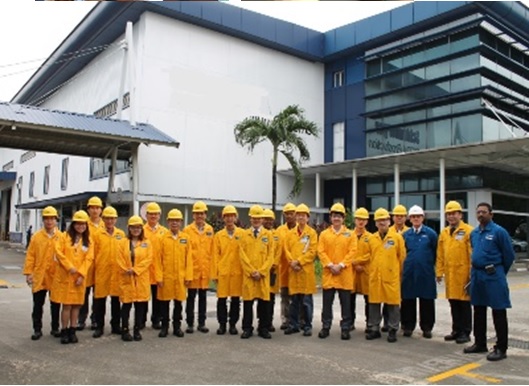 ASTech Showcased our Solutions at Yamazaki Mazak 25th Anniversary
Japanese machine toolmaker Yamazaki Mazak launched their iSmart Factory and expanded their Machine Tool Factory in Singapore. ASTech had successfully showcased Latest Automation Technology in Mazak 25th Anniversary Open House from 20th – 23rd Jun '17, witnessed by Senior Minister of State for Trade and Industry and National Development Koh Poh Koon. The solutions included machine tending for CNC Lathe & Milling Machine with secondary processes such as deburring using auto quick change by Robot and offline inspection.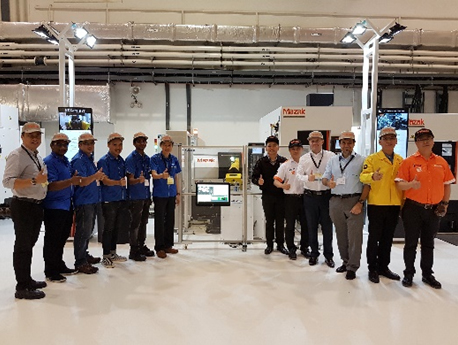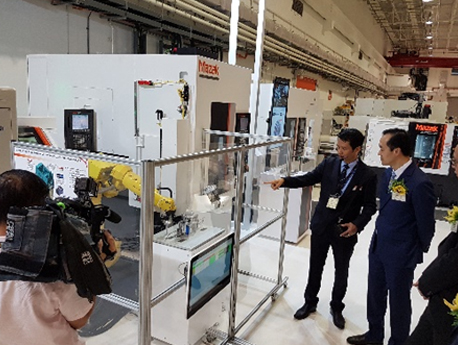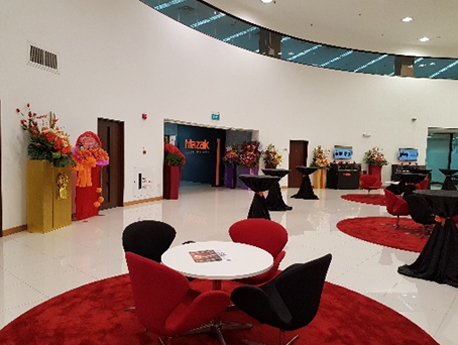 ASTech Appointed by PBA as Preferred Partner for Robotic Solutions
PBA and ASTech signed an Appointment Letter on 9th Feb 2017 and PBA appointed ASTech as their Preferred Partner for Robotic Solutions Provider and System Integrator in manufacturing industries.
ASTech Participated in MTA '17 Singapore
ASTech partnered with Makino, Fanuc, Hwacheon, Schunk, HIWIN, & PBA to showcase the next wave of manufacturing technologies, Industry 4.0 enabled with IoT solutions for Precision Engineering sector in MTA '17 Singapore.
The solutions included machine tending for CNC Lathe & Milling Machine with secondary processes such as deburring using auto quick change by Robot.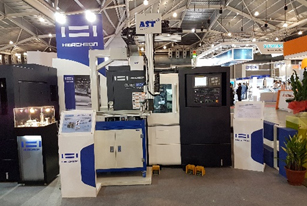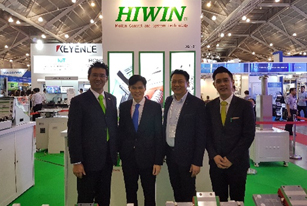 ASTech Relocated to New Factory @ Woodlands
ASTech had an Opening Ceremony on 3rd May 2016 and received warmest support from Customers, Government Agencies, Business Associates, Business Partners, Friends and Families.
To recognize the employee full dedication to company, ASTech presented Long Service Award to the employee during the ceremony.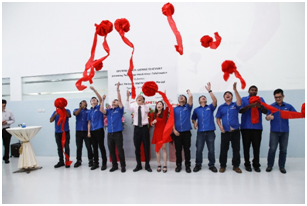 MOU SIGNING CEREMONY 2016
ASTech Signed a Memorandum of Understanding for Enhancing Technology and Business Collaboration with HIWIN Singapore Pte Ltd on the same day of the Opening Ceremony on 3rd May 2016.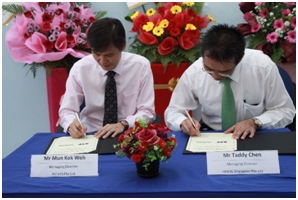 ASTech won the SME Prestige Award 2015
The SME PRESTIGE AWARD 2015 is a proud initiative from Media Enrich Enterprise Pte Ltd (a subsidiary of Singapore Enrich Group Pte Ltd), in its second year running, where it showcases our outstanding SMEs in Singapore who have shown an impressive track record and dedication in expanding its branding as well as the quality of products and services to its client base.
This invitation program is to promote and honour the cream of the crop of the entrepreneurial elites who possess entrepreneurial spirits in the operation of their businesses in the different industry. The recognition is given to local companies who have demonstrated commitment to achieve higher standard of business excellence as well as contribution to the economic development of Singapore.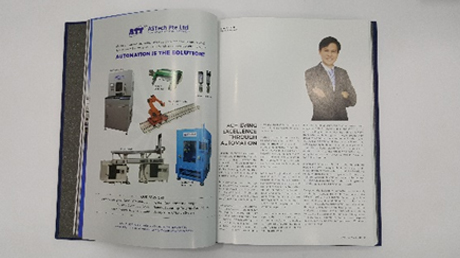 ASTech had awarded ASIA EXCELLENCE AWARD 2014
The award is designed to inspire the excellence of business enterprises among the Asian countries, especially now that Asia continued to gain further recognition in the global arena as a favoured investment destination in view of its robust economic growth.
The Asia Excellence Award is to promote and honor Asia's local self-determined entrepreneurs who possess entrepreneurial spirits and good corporate governance. It also helps to build a legacy for the Asian community and through the achievements of the winners, to inspire the other industry players who strive to be the best they can.
The Sunday Times
ASTech was featured on The Sunday Times on 8th Sept 2013 for achieving Promising SME500 2013
The Business Times
ASTech was featured on The Business Times on 18th April 2013 for achieving Promising SME500 2013
Promising SME 500 2013
ASTech recognized as a Business Luminary in the prestigious PROMISING SME500 2013
The Promising SME 500 Campaign was spearheaded to recognize the exceptional achievements of business men and women in Singapore, highlighting their commercial success and also recognizing their contributions to the economy and the community at large. This campaign also serves as a platform to inspire aspiring entrepreneurs to likewise pursue their dreams and ultimately to create a sustainable entrepreneurial culture in Singapore.